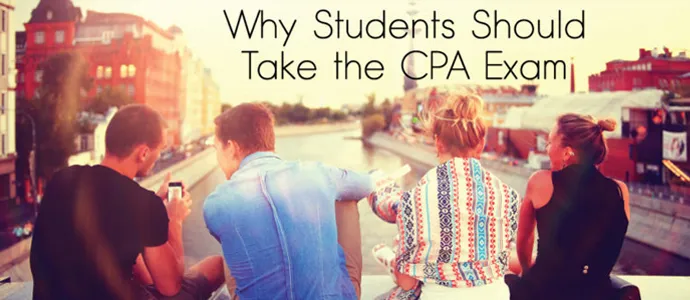 Why Students Should Take the CPA Exam
Reasons Why Students Should Take the CPA Exam.
Step One: You can get it out of the way
Once you satisfy the 120-hour rule to sit in your state, you should take the CPA Exam as soon as you can. If you pass the exam by the time you complete your 150 hours, you will have one less obligation weighing down on you and can celebrate all the more when you graduate.
Step Two: You are already in study mode.
As a student, your primary responsibility is to study and learn, so taking the CPA Exam now won't require you to do anything new. You can continue your personalized study process to move through your CPA Exam prep, and you can just add the CPA Exam to your list of tests to ace by graduation.
Step Three: Your knowledge is still fresh.
Your mind is already attuned to absorbing and applying knowledge, and your accounting classes are already exposing you to the topics on the CPA Exam. With all that newly-acquired accounting information still firmly located at the forefront of your brain, you may find preparing for the CPA Exam easier than you would expect.
Step Four: Your schedule is more flexible.
You may find it hard to believe, but time will really fly once you leave school and enter the workforce. A full-time job, travel, relationships, personal responsibilities, and more will swallow up your free time, and you will have even fewer opportunities to study. As a student, you still have enough control over your schedule to take the CPA Exam.
Step Five: You can use school resources.
You have a variety of academic resources you can use to pass the exam. Most accounting programs assist students with free seminars, review courses, and other forms of CPA Exam support, and most colleges and universities work with Gleim CPA to set up student discounts on Gleim CPA Review Systems. If your fellow accounting majors are taking the exam, you can work together to study effectively and maintain sanity.
Step Six: You can qualify for financial aid.
Future CPAs can receive help funding the CPA Exam from several different accounting organizations. The AICPA offers scholarships to undergraduate, graduate, minority, and transfer students, and the American Woman's Society of Certified Public has established financial assistance programs for students as well. You can also check your CPA state society for scholarship opportunities and discounts on review courses.
Step Seven: You will have an advantage over your classmates.
The CPA certification definitively proves that you are dedicated to the field of accounting and have the skills, intelligence, and stamina needed to succeed in it. You will be sure to impress future employers by possessing the ambition and maturity required to pass the CPA Exam, and you will further distinguish yourself from your peers with each extra letter behind your name.
Step Eight: You will increase your chances of landing a job.
The CPA certification will also serve as an attractive addition to your resumé that works harder to earn job offers than your bachelor's in accounting or finance. By passing the CPA Exam before you graduate, you can receive an abundance of vocational attention from both public and private companies that gives you great options for your first job out of college.
Step Nine: You will qualify for more in-demand jobs.
If you pass the CPA Exam as a student, you can accept a highly coveted job before you even accept your diploma. Top firms are currently clamoring for employees with certain skills, and your CPA certification will confirm that you have these skills. With retiring baby boomers vacating the mid-level and upper-level positions that require this accreditation, you can be well on your way to a promotion if you come in to the company as a CPA.
The Best Reason Why Students Should Take the CPA Exam
This list of reasons verifies the value of taking the CPA Exam as a student, but if you are still uncertain about taking the CPA Exam at all, then the most convincing cause may be that you can enjoy benefits of becoming a CPA sooner. Read our previous article detailing these benefits to learn more, and check out our free CPA Exam guide to get familiar with the facts about the CPA Exam.